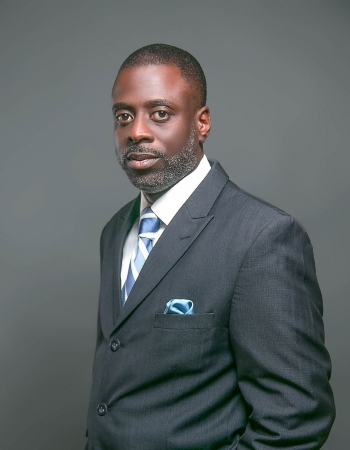 Elder Carlos Smith is the Pastor of Macon Full Gospel Holy Temple Inc., located in Macon, Georgia. Pastor Smith is a native of Atlanta, Georgia. He has been married to his lovely wife Anita for 24 years. Anita works faithfully beside her husband in ministry. Pastor and First Lady have two daughters Alysen and Maya who are the highlights of their lives. The Lord blessed Pastor Smith to retire from the United States Air Force after 20 years of honorable service. During his tenure in the military, he held numerous leadership positions at various levels. In addition, he has been blessed to travel extensively within the U.S. and abroad to countries such as: Israel, Turkey, Haiti, England, Ireland, Japan and etc.
In 1997, Elder Smith dedicated his life to Christ under the anointed leadership of Apostle Lloyd Spencer Thomas at Greater Praise and Deliverance House of Prayer located in Panama City, Florida. When transferred to Fairchild AFB in Spokane, Washington. God blessed Elder Smith to sit under the dynamic leadership of Pastor Rick Mayo at Cornerstone Pentecostal Church of Spokane, Washington. In 2001, the Lord blessed Elder Smith to begin ministering. He faithfully ministered to inmates at the Drug Abuse Alternatives Center (DAAC) located in San Antonio, Texas under the energetic leadership of Pastor Michael Chance of The Hope Center Church. Upon relocating to Illinois, Elder Smith was blessed with the opportunity to server under two great men of God: Rev. Dr. Daniel L. Blash of Fresh Anointing Church in St. Louis, Missouri & the late Bishop Herbert Clarke the former overseer of Full Gospel Miracle Temple in East St. Louis, Illinois.
In 2014, God spoke to Elder Smith about doing a work for Him in Macon, Georgia. Shortly thereafter, out of obedience he and his family relocated from Illinois to Georgia and waited for instructions. In late 2016, Elder Smith began an outreach ministry teaching Bible Study at the Coliseum Marriott located in Macon, Georgia. The next year God opened the door for Elder Smith to become Pastor of Macon Full Gospel Holy Temple, Inc. under the anointed leadership of Apostle Herman L. Murray, Overseer of Full Gospel Holy Temple, Inc.
Pastor Smith has a true zeal for God and continues to stand on the Word of God while uplifting God's standards of holiness because "Holiness is STILL Right!"